When you own a dog, there's nothing better than spoiling them with all the toys and treats they deserve. Of course, dogs also love to be spoiled by their humans! Here are custom dog owner gifts for your loved ones who want to show their pet how much they love them.
Custom Dog Owner Gifts Detailed Reviews
Below is the list of custom dog owner gifts for your love that helps you to select the best for your lover.
My Dog Is Cuter Than Your Boyfriend Funny Quote Classic T-shirt
This funny and cute T-shirt is one of the best custom dog owner gifts. Size up if you like your shirt's loose fitting, as the material has some stretch. This shirt is an excellent way to tell the world that your dog is cuter than your boyfriend!
This tee reads "My Dog Is Cuter Than Your Boyfriend" and also displays an adorable photo of a cute puppy looking at its owner with love in its eyes and tongue hanging out.
The best part about this gift for the dog lover in your life is that you can get it in either pink or blue colors!
Price: $21.95
My Sunshine Comes From The Love In My Dogs Eyes Classic T-shirt
Give your dog the spotlight with this My Sunshine Comes From The Love In My Dogs Eyes Classic T-shirt. You can customize it to feature your dog's name and breed! Customize the shirt with any color of your choice, or choose from various shirt styles or sizes.
Dog lovers everywhere will appreciate this gift to show their love for their furry friends!
Price: $21.95
A Dog Is The Only Thing On Earth That Loves You More Than He Loves Himself Dog Canvas, Gifts For Dog Lovers
Dog owner gifts are a great way to show your love for dogs. Dogs are man's best friend, and if you've got a dog, you know they're the best things in the world. We have what you need if you're looking for new custom dog owner gifts!
The dog canvas art makes great gifts for any occasion, whether an anniversary or just you like it.
You can customize these prints with your photos and add text of your choice. We have so many great options for customizing our products: name it!
Price: $24.95
Wash And Dry All Fur Varieties Dog Canvas, Wall Art Decor Gifts For Dog Lovers
This cute canvas print is one of the fun custom dog owner gifts. The image is printed on high-quality canvas and then stretched over a wooden frame. It's ready to hang at home or in the office, but it also makes an excellent gift!
The canvas measures in many other sizes, so you can select the ones that fit your room. The artwork is printed on archival quality acid-free paper with fade-resistant inks, so your print will last as long as you do!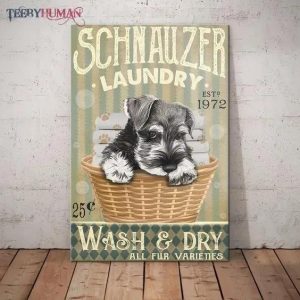 Price: $24.95
There Was A Girl Who Loved Dogs And Wine Classic T-shirt
Consider this shirt for your favorite dog lover who loves a good glass of wine. It's perfect for the dog owner who isn't picky about their canine companion's breed, so long as it's a small, fluffy one.
It comes in several sizes, so whether you're gifting it to yourself or someone else, you should be able to find an option that fits well.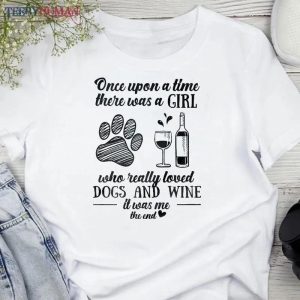 Price: $21.95
Custom Dog ID Tags
You're probably already aware of the importance of dog identification tags. If your beloved pup gets away from you, it must have some form of identification on it so you can find your dog.
There are many other reasons to have dog ID tags, especially if you live in an area with a lot of wildlife or if your dog is prone to wandering off during walks.
The correct custom dog ID tag can also be used as an effective deterrent against people who might want to steal your pet or harm them in any way—and they should never be used as punishment for bad behavior!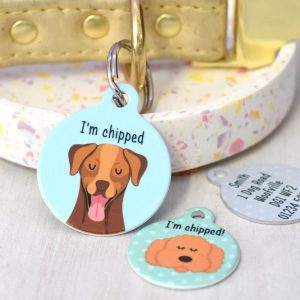 Price: $12.79 (Source: Etsy)
Customized Pet Bandana
Customized dog bandanas are excellent custom dog owner gifts to show your dog's personality and breed. The bandana can have a name, activity, or anything else you want on it.
There is no better gift for pet lovers than customized dog owner gifts that show off their favorite animal.
Price: $7.30 (Source: D for dog)
---
More to discover:
---
Custom Dog Towel
Custom dog towels are custom dog owner gifts for your love. You can get these made in just about any style and color you want, so they're sure to match your recipient's personality.
One of the best parts about custom dog towels is that you can personalize them with anything from cute sayings to funny photos. The possibilities are endless!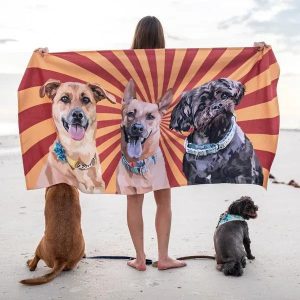 Price: $89.28 (Source: Pet canva)
Handmade Doggy Necklace
A dog necklace is one of the custom dog owner gifts. Doggy necklaces come in many different styles, from simple to elaborate.
The most popular style of dog collar necklace is one with the name of your pet engraved on it, as well as a paw print or other design that you can personalize with an image of their face (or body).
A dog collar necklace is also known as "dog collar jewelry" because it looks like traditional jewelry pieces such as necklaces and bracelets.
They are made from durable metals like stainless steel, silver, and gold plating, making them last longer than other accessories like regular jewelry.
Still, they don't lose their shine over time, so they will continue looking good no matter how often they get washed or worn during playtime activities!
Price: $21.50 (Source: Amazon)
Customized Dog Treat Bags
The first thing you need to do is measure the treats your dog eats. If they're small, you can get a bag smaller than what you might think it needs, but if it is on the bigger side, make sure it has enough room for all of its goodies.
There are plenty of options for these bags—you can find ones with handles or drawstrings, zippers or Velcro closures, and even those with clips or loops (if your dog deems them worthy).
Some have space for ID tags, while others are made from waterproof material so they can be used as water bottles. Some come in fun patterns like camouflage and leopard print, while others are simple black or white canvas styles—these last ones will go great with any outfit!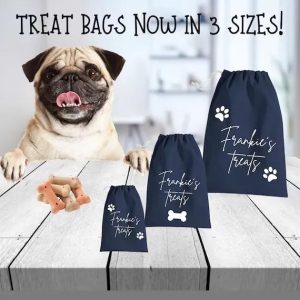 Price: $4.48 (Source: Etsy)
Conclusion
There is no doubt that dogs make our lives better. They are loyal, funny, and entertaining. But sometimes, showing your love for your dog can be hard when so many other options exist.
Thankfully, we have you covered with these fantastic custom dog owner gifts! I hope this list helps you!