Men and women who love dogs are often the most fun. They're compassionate, have a higher stress tolerance, and have a better sense of humor. They also tend to be more active than people without pets, which is excellent for their health!
In this post, we'll explore some dog lover gifts for him. We'll also dive into some unique gift ideas if you're shopping for someone who might not be as into dogs but still loves them enough to want one in their life. Let's get started!
Best Dog Lover Gifts For Him Detailed Reviews
If your man is a dog lover, the list of dog lover gifts may help you choose the best gift for your loved ones.
Chihuahua The Best Mom In The World Dog Lover Classic Tee
The Chihuahua, The Best Mom In The World Dog Lover Classic Tee, is the perfect gift for your favorite puppy parent.
This 100% cotton, machine wash-and-dry tee features the phrase "Chihuahua—The Best Mom in the World" and a colorful print of a Chihuahua wearing a stuffed animal crown. It's available in five sizes: small, medium, large, x-large, and 5X-large.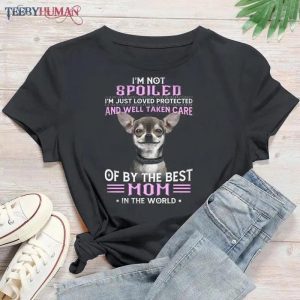 Price: $21.95
My Dog Is Cuter Than Your Boyfriend Funny Quote Classic T-shirt
This shirt is an excellent gift for any dog lover. It's the perfect way to let people know that your pup is cuter than their boyfriend, girlfriend, or significant other. The shirt comes in five colors, so it's great for men and women alike!
The best part about this t-shirt is that it's not just limited to dogs! you can use the phrase in many contexts: "My cat is cuter than your boyfriend." "My hamster is cuter than your dad." "My turtle is cuter than your sister."
This shirt will make everyone laugh when they see it because who would ever think anyone would compare their pet to a human being?
Price: $21.95
To All The Animals I Have Not Adopted Yet, I Am Coming For Yall Classic T-Shirt
The shirt is a funny dog shirt with a great message. It's perfect for any dog lover and is available in various colors, sizes, and styles. You can choose the type you want from our website or visit our store in person to see all the different breeds available!
Our shop offers these humorous t-shirts for men and women who love their pets dearly. They're comfortable enough to wear out at parties but also suitable for taking long runs/walks through nature trails!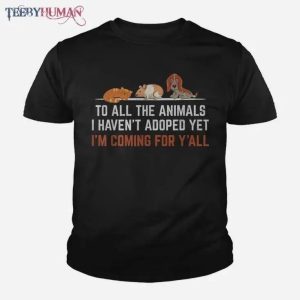 Price: $21.95
Cane Corso Dog Tea Company Dog Canvas, Wall Art Decor Gifts For Dog Lovers
You can personalize this canvas print with any name and up to 15 characters. The text on the canvas will be printed in black, while the background color will be white.
The wall art is a perfect dog lover gift for him because it's fun to have on display and a great way to remind friends and family members of their canine companions.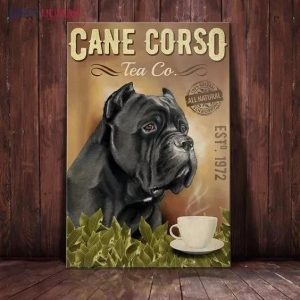 Price: $24.95
Goldendoodle Dog Company Best Coffee In Town Dog Canvas, Wall Art Decor Gifts For Dog Lovers
Best Coffee In Town Dog Canvas Print Wall Art Decor is also one of the best dog lover gifts for him in your life. This product comes with a 9×12" canvas print featuring an adorable dog on a hot cup of coffee with an ice cream cone and white chocolate sprinkles on top!
The design features some fun geometric lines around the edges, making it easy to frame up in any room in your house!
With this gift, you can give someone a sense of style while also showing them how much you love them by giving them this quirky piece of art that will become their favorite piece in their collection!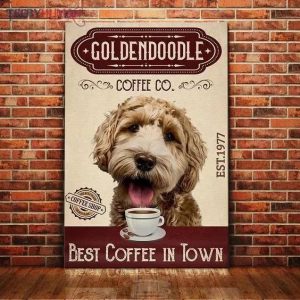 Price: $24.95
Beware Of Pitbull They will steal your heart Classic T-shirt.
The "Beware Of Pitbull They Will Steal Your Heart Classic T-Shirt" is one of their dog lover gifts for him. The classic design will bring back fond memories of your beloved pet, and the soft cotton fabric makes it comfortable to wear all day.
The shirt features a large image of a pitbull with his tongue hanging out, making it clear that you should be careful when approaching him—he may try to steal your heart!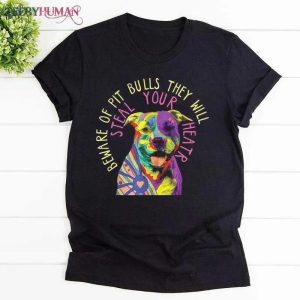 Price: $21.95
Dog lover socks
Dog lover socks are dog lover gifts for him. They are fun and humorous and let him express his love for dogs without being too over-the-top. Dogs can be a guy's best friend too!
Dog lover socks come in all different styles and sizes, so you can find something that fits your man's personality.
There are even adult dog socks with paw prints or cartoon faces! If you want something more subtle, check out our classic dog lover designs like a Doberman or Chihuahua silhouette.
You could also get some funny quotes about how much he loves dogs, like "I Love My Dog More Than Bacon" or "A Dog Is Man's Best Friend."
Price: $12.00 (Source: Cute but crazy shock)
Dog lover earbuds
Dog lover earbuds are dog lover gifts for him. They've got all kinds of colors, designs, and more to choose from.
The best part is that they don't even have to be used by yourself! You could buy them for your husband or boyfriend, and he can use them while doing yard work with the pup and even give him something back for all the times he had to walk around with poop bags in hand.
They're also excellent gifts for kids who love dogs because they make it easier for them to hear conversations or music on their phones without having the volume turned up too high (which could be harmful).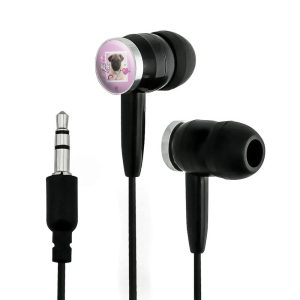 Price: $6.99 (Source: eBay)
Dog themed cufflinks
Cufflinks are dog lover gifts for him. They're not just for the man in your life; you can find them in all sorts of shapes and sizes to fit any budget or if you're on a budget. You can even find sets that come with matching socks!
There are many ways to use cufflinks, so this is an excellent gift for the guy who likes dressing up and wearing suits daily in his office.
Dog owners will appreciate these gifts because they get to show off their love of dogs while they work or go out with friends (and even strangers).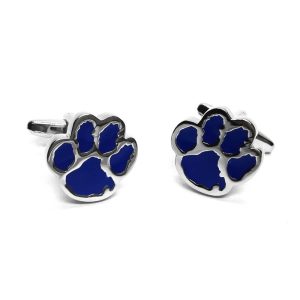 Price: $63.87 (Source: cufflinksdepot)
---
More to discover:
---
Leash holder sign
The leash holder sign is one of his best dog lover gifts. This sign can hold anything you use a leash on, including a collar, coat, or bed. You can also use it to keep food bowls and toys!
The leash holder signs are made of wood, so they're sturdy enough to last but light enough that you can hang them easily without causing any damage to the walls (or yourself!). The bold font ensures that everyone sees your pet's needs when they come over!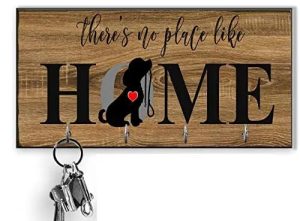 Price: $24.00 (Source: Amazon)
Dog bed/hammock combo
The dog bed/hammock combo is one of the dog lover gifts for him in your life, especially if they love to travel! It can be used as a hammock in the backyard or on vacation. It comes with a carrying bag so you can easily transport it wherever you go.
It is also perfect for dogs who like to curl up and sleep on something soft and cozy. The fabric has an extra layer of padding that makes it comfortable for you and your pup!
This gift comes in three different sizes: Smaller breeds (5 pounds), medium breeds (15 pounds), and larger breeds (60 pounds). There is even an option for giant breed dogs (100+ lbs) if this fits your budget!
Price: $120.00 (Source: Amazon)
Dog paw ring dish
This dog paw ring dish is made of ceramic, dishwasher safe, microwave safe, and made in the USA.
It comes in various colors, so you can choose one that matches your home decor or represents your favorite breed(s). An excellent gift for any dog lover!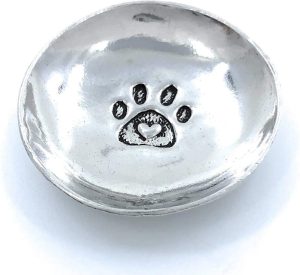 Price: $10.83 (Source: Amazon)
Conclusion
With so many options of dog lover gifts for him, you're sure to find something your man will love. Whether it be a gift that helps him show off his love for dogs or one that will make his day by reminding him how much you love him, there are plenty of choices.